Today, companies need a single platform running applications across multiple clouds, both private and public to ensure workload optimization. Application mobility via a shared VMware based platform allows customers to choose where their workloads run based on cost and efficiency for the application rather than being tied to a specific environment due to proprietary tooling or technical debt.
3 steps to Hybrid Cloud / Workload Optimization:
2. Determine your foundation
VMware Cloud Foundation:
The simplest path to hybrid cloud
Establishes a unified cloud platform for private and hybrid clouds
Delivers the most comprehensive, lowest cost hybrid cloud offering
3. Determine your Hybrid Cloud Solution:
Schedule a discovery call with a Sterling Engineer to demystify the hybrid cloud journey.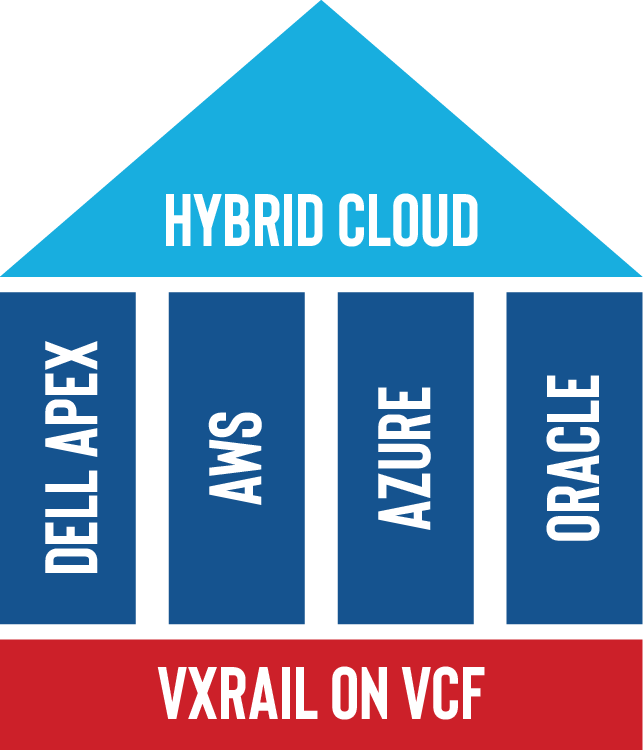 VMware Cloud Foundation (VCF) provides the simplest path to hybrid cloud through an integrated software platform that is the foundation for both private and public cloud environments.
VCF provides a complete set of software-defined services for compute, storage, network, and security. The result is simple, secure, and agile cloud infrastructure that can be deployed on-premises through a range of OEMs or consumed as a service from a number of public cloud providers, including VMC on AWS, Azure VMware Solutions, Oracle, and many more.
Portfolio of as-a-service offerings from private to public cloud and anything in between. Dell APEX enables consumption-based billing for any aspect of your data center for financial flexibility across platforms.
Public Cloud offering within AWS directly managed and supported by VMware (being supported by VMware Is a key difference from this and the other public cloud offerings). Provides interconnection into VMware Cloud services, as well as direct access into AWS cloud native offerings, such as managed databases, machine learning platforms, and serverless toolsets.
Public Cloud Offering with Azure managed and supported by Azure but endorsed by VMware. Same direct access into Azure native services as listed for VMC on AWS, suited for customers already using Azure or have specific licensing requirements/application requirements that are reliant on Microsoft services, such as Managed Azure SQL.  
Public cloud offering with OCI supported by OCI. FedRamp High and DISA IL5. OCI's vmware solution offers the same direct access into the Oracle cloud backbone to use their proprietary solutions around High performance computing and autonomous databases, while providing the customer more direct access into the VMware based SDDC. Unlike other solutions in the public cloud, Oracle does not retain access to your SDDC after provisioning, allows customers to choose their own versions to run, and facilitates SSH access directly to hosts.
A hybrid cloud can secure predictable inexpensive capacity as a baseline for most day-to-day requirements, with the freedom of being able to consume on-demand public cloud when required.