Sterling develops custom Cross Domain Solutions that range from cross domain enablement of a single COTS or GOTS system, to solutions that bring together a wide range of data and applications across multiple security domains.
Cross Domain Solutions are typically customer owned and do not require recurring license or maintenance fees.
The Sterling XD Framework and SmartXD technologies are used to rapidly deliver flexible, low cost capabilities that are easier to certify than traditional, guard specific solutions.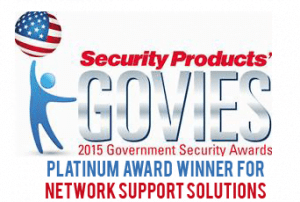 Learn more about Sterling's SmartXD technology below.
Cross Domain Enablement for Existing Applications
Sterling can rapidly cross domain enable existing COTS or GOTS applications; Sterling's CrossWatch and Unity are perfect examples. CrossWatch for SolarWinds'® cross domain enables SolarWinds'® IT Management software without any modifications to standard SolarWinds'® products. Sterling Unity cross domain enables Microsoft Exchange email, calendar, contacts, and tasks also with no modifications to Exchange. In both cases, familiar user interfaces are maintained, cross domain transfer is limited to highly constrained XML and any data guard can be used. The result is a secure, easy to use, easy to certify cross domain solution. Using the Sterling XD Framework and SmartXD technology, solutions can be created rapidly. Crosswatch for SolarWinds® was developed, tested, and released in less than 6 months.
Specific Cyber Solution Areas include the following:
• CrossWatch for SolarWinds® Extensions – CrossWatch for SolarWinds® is an off-the-shelf Sterling product that provides cross domain, global and/or cyber situational awareness, network monitoring, and IT management for SolarWinds® IT Management products. This product can be customized in the following ways:
• Custom Views and Reports – By gathering additional information within each of the domains and transferring this information to the high side along with standard Sentinel data, custom views or reports can be presented. These views and reports can be interactive and provide for drill down and other functions within the high domain or across domains.
• Custom Integrations – CrossWatch currently integrates with SolarWinds® Orion on each of the lower domains and with the SolarWinds® Enterprise Operations Console on the high domain. Additional integrations to SolarWinds® or other systems can be added. For example, integration with a Help Desk system to automatically open and populate trouble tickets based on specific policies and events. Another example would be integration with cyber threat analysis systems or cyber intelligence systems to provide cross domain threat alerts and intelligence information.
• Custom Analysis – CrossWatch can perform analysis of SolarWinds'® information within each domain, looking for specific patterns of information. This data can be combined with data from other systems. Data can be transferred to the high side where cross domain pattern analysis can be performed. Automated actions can be triggered as a result of the analysis.
• Cross Domain Drill Down – This is an off-the-shelf option to enable cross domain, high to low drill down using standard SolarWinds® functionality. Sterling's CrossWatch transparently proxies these requests across domains. Additional drill down capabilities can be provided as part of the other customizations discussed in this section.
• Cyber Situational Awareness and Cyber C2 – Full-spectrum cyberspace operations require situational awareness of the cyber battlespace to support offensive and defensive actions (Cyber C2). This includes the ability to visualize friendly, neutral, and enemy cyber assets in a Cyber Common Operating Picture (COP). Sterling has capabilities that can gather network information from multiple sources on multiple security domains, enable the presentation, and analysis of cyber information in various ways including geospatial presentation, map cyber information to missions, and provide direct access to additional applications for more detailed analysis or initiating actions (C2).
• Cyber Mission Mapping – Mission mapping provides cross domain monitoring of cyber operations at the mission level. The mission impact of cyber outages or attacks can be rapidly identified. Solutions can provide the structure and workflow to define the mapping (relationships) between cyber entities and the mission they support. This can include data centers, networks, systems, applications, and additional mission dependencies. Custom views of mission status can include geospatial, as well as standard lists and filters. Drill down to underlying detail to determine issues affecting mission capabilities can be performed.
Actionable Intelligence
Sterling has experience with information discovery, retrieval, and geo-visualization capabilities. Applied to systems like the Distributed Common Ground System (DCGS), actionable intelligence capabilities can incorporate the following:
• Real-time access to Secret and Tagged Data Objects (aka Smart Data) residing at TS/SCI and within IC Cloud
• Library of Ozone widgets, each of which provide real-time visualization of intelligence data
• Geospatial visualization and Common Operating Picture for situational awareness and decision making
• Personalized User Defined Operating Picture using the Ozone Widget Framework
• Access to upstream applications to send intelligence and collaborate
• Local Micro-Cloud to provide functional capabilities during intermittent connectivity
C2 Solutions
Sterling GeoSpace is a solution that provides a multi-domain, 3D, geospatial view of the battlespace. It can be customized and configured to perform a broad range of capabilities including the following:
• Common Operating Picture and Unified C2 Dashboard – GeoSpace was successfully used during CWID 2010 to provide a battlespace COP. GeoSpace is designed to provide a unified view of underlying data feeds, C2 systems, and intelligence information coming from different security levels and tagged data sources. In addition, GeoSpace can provide direct access to underlying C2 systems and intelligence detail.
• Sensor 360 – Sterling has also created a configuration of GeoSpace designed to provide a view of all sensors in the battlespace including coalition sensors and sensors operating at different security levels. This unified view greatly improves planning and sensor situational awareness. In addition, sensor C2 can be performed from the unified view by providing direct access to sensor control applications.
GeoSpace Features
• GeoSpace provides capabilities to enable C2 operators to visualize, assess, collaborate, and act on dynamic events within the mission environment. Operators navigate within a 3D, geospatial world using a variety of capabilities including standard Google Earth navigation controls, the ability to rapidly find and follow specific units, and the ability to move to specific locations including latitude and longitude and predefined Points of Interest. Units are shown as 3D models or 2525 icons.
• The user can track a unit from a variety of "camera angles" and can optionally see track lines showing the historical track of a unit. Summary information about each unit is available including type of unit, call sign, and links to additional information and applications. Depending on the particular implementation, these links can seamlessly invoke other applications such as other C2 systems, tasking systems, collaboration, and communication and control applications. These other applications are presented within labeled application windows on the originating network providing a single, integrated user experience.
• Users can easily sort, search, and filter through all the units within the mission environment to find a specific unit or a class of units that might mission needs (such as finding close air support aircraft or search and rescue assets). Once located, users can quickly access additional information and applications associated with that unit.
• GeoSpace can connect to a wide range of C2 data sources and systems.
Benefits
• GeoSpace significantly improves C2 situational awareness enabling users to quickly visualize, assess, communicate, and act on changes within the mission environment. The result is faster, more accurate decision making, as well as improved collaboration and information sharing.
• In today's world, mission environments all involve multiple networks, systems, and data feeds at different classification levels. Simply trying to copy data from different classification levels to a new "least common denominator classified network" has both security and operational issues. Providing seamless access to these systems, applications, and data without moving them to a new network, greatly improves security and reduces that cost and time to setup new operational systems.
• By incorporating the appropriate data feeds and applications, GeoSpace can provide a solution for traditional C2, ISR, Coalition operations, and Disaster Recovery/Humanitarian Assistance. As with all SmartXD applications, GeoSpace provides a more secure, flexible, and cost effective solution to cross domain applications.
Trusted Workstation Solutions
Sterling has expertise and experience working with Trusted Workstations such as AFRL SecureView, AFRL SABER, and Forcepoint Thin Client. Specific solution areas include the following:
• Seamless Windowing – Sterling has experience implementing windowing capabilities to enable application windows from different security domains to be securely windowed on a single display. This expertise includes working with desktops that may be configured as thick (local) or thin (VDI).
• Smart Windowing Applications – Leveraging seamless windowing technology, Sterling has experience building cross domain "mashup" applications that feel like a single application on a single pane of glass while actually orchestrating applications residing on different security domains. Sterling Unity, Discover, and CrossWatch with drill down option are examples.