Cybersecurity Webinar Series
Part 3- Mind of a Hacker
Part 3 in the Sterling Cybersecurity Webinar Series took place June 23,2021.  Watch now!
In a matter of a few weeks- a coastal-pipeline shut down, an international meat processing corporation was paralyzed. Hackers are on a quest. They're eyeing to exploit, to crack, and conquer. They love the rush of power and the win.
Internationally-recognized cybersecurity analyst and senior researcher Keren Elazari has the mind of a hacker, because she is one. The incidents of 2020 have left many hackers with the opportunity for additional gains.
To compete or beat the hacker, you must think like one. Look inside the mind of a hacker, their motives and what makes your organization an easy target. Join us for Part 3 of the Sterling Cybersecurity Webinar Series.
Be proactive, better protect your invaluable data, your organization, and your reputation. Industry thought-leaders Keren Elazari and Stevan Bernard, former Executive Vice President of Sony Pictures Entertainment, will discuss the global cybersecurity implications, the intricate mind of a hacker, and the future state of cybersecurity.
Part 2- Ransomware: no limits, no borders, no fear
Part 2 in the Sterling Cybersecurity Webinar Series took place on Tuesday, May 25th 2021. Click to download the recording here.
One ransomware attack happens every 14 seconds. 55% of small businesses pay the ransom demand, but data is recovered intact only 8% of the time. Not only are attacker's objectives for financial gain, but they are carrying over into a physical impact.
Cyber-attacks are a matter of individual, local, regional, national, and international security. In this era of cyber-attacks, hackers will stop at nothing, there are no limits. What is your cyber defense strategy?
Join industry thought leaders Stevan Bernard, former Executive Vice President of Sony Pictures Entertainment; Chris Cyr, Sterling CTO; and Mindy Schweitzer, Sterling Director of Marketing and moderator, as they look at the cybercrime crises happening now and what you  must do to safeguard your world.
• Magnitude and escalation of ransomware:  From Sony Pictures to recent attacks
• Urgent strategies for cyber protection
• Continuous monitoring and the zero-trust model
• Preparedness as the only means of survival
The Impact of Cybercrime
A STATISTICAL SNAPSHOT OF THE LAST YEAR IN CYBERSECURITY ATTACKS, PREPAREDNESS, AND MITIGATION EFFORTS
Cyberattacks have been increasing at an exponential rate from 2020 to 2021, which means proactive preparedness, risk- mitigation, incident-response plans, and a Zero-Trust cybersecurity resiliency model must all be in place. Don't be a statistic of the ransomware trap and of cyber breach.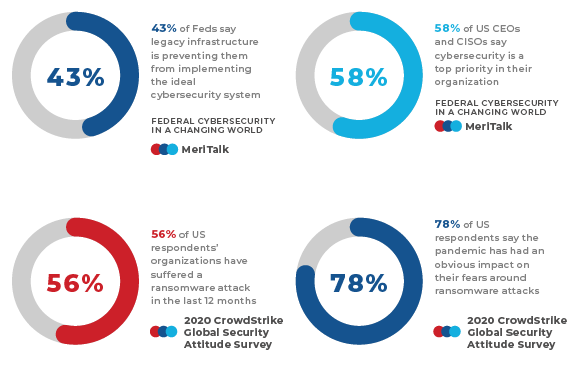 Download the complete statistical infographic below.

Part 1 - Surviving a destructive nation-state cyber-attack and a look at what the digital future holds
Part 1 in the Sterling Cybersecurity Webinar Series took place on Tuesday, April 27th 2021. Click to download the recording here.
The average cost of a cyber breach is $3.68 million. It's not a matter of "if" and it's not a matter of "when"; it is whether you will survive the cyber-attack. Since the early days of the pandemic, we've seen an accelerated and unprecedented digital transformation that would've taken years but instead happened in months or even weeks.
Have you looked ahead at what safeguards will be needed to counter the emerging threats? Can you guarantee the security of your data? Our dependency on the digital economy is irreversible. The systemic risk we face includes vulnerabilities to all things connected.
Industry thought-leaders Stevan Bernard, former Executive Vice President of Sony Pictures; Chris Cyr, Sterling CTO; and Jeff Moore, Sterling Senior VP of Business Development and Contracts, take a look at cybersecurity past, present, and future:
• Sony Pictures' story of surviving North Korean cyber-attacks
• Present global-scale threats and dark-web risks
• Importance of a secure supply chain
• Future threatscape
• The proactive approach your organizations can take
Meet the Industry Expert Panel: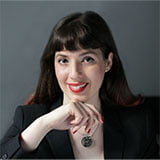 Keren Elazari
BSidesTLV
Founder, Cybersecurity Analyst, Senior Researcher
Featured by Forbes as one of the 20 'Hackers who shaped history", Keren Elazari is an internationally acclaimed security researcher, author and strategic analyst with extensive experience in the international cyber security industry. Keren has worked with leading Israeli security firms, government organizations, Big 4 firms, Fortune 500 and groundbreaking startup companies in navigating complex cybersecurity issues.  Her independent research about emerging security issues have been featured by Scientific American, WIRED, & The Financial Times, and she is a frequent speaker and commentator in international events and across the media.  Keren holds a CISSP certification and a Masters in Security Studies, and is a senior researcher at the Interdisciplinary Cyber Research Center at Tel Aviv University, Israel.  In 2014, Keren was the first Israeli woman to speak at TED and her TED talk remains one of the most viewed in the category of security and hacking of all times. Keren is the founder of Israel's largest security research community BSidesTLV and the Leading Cyber Ladies, a global professional network for Women in Cyber Security.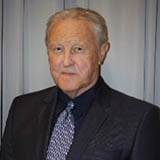 Stevan Bernard
Bernard Global, LLC
Chief Executive
Stevan Bernard founded Bernard Global, LLC, in July 2018, and currently serves as its chief executive. Prior to this he held the position of Executive Vice President of Global Protection Services at Sony Pictures Entertainment. During his 16 years with Sony, Steve initiated numerous programs in support of Sony worldwide. His staff covered 50 countries with 150 offices, supporting contract production personnel operating in the far corners of the globe. Steve and his staff's responsibilities included global-threat management; investigations; forensics (with three labs); information security and data privacy; content protection; resilience; major-event security; environment; health and safety; production safety and security; sustainability; medical services; BCP/CM and incident management (including cyber); physical security; law-enforcement and government liaison; fire and life safety.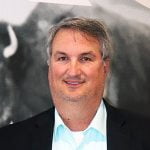 Chris Cyr, Sterling CTO, is a technical evangelist and enterprise architect with a proven ability to promote technology insertion and adoption. His 28+ years supporting the federal government, NASA, and Special Operations community, developing future end-to-end reference architecture showcases extensive experience with large, high-visibility projects and seeing them to completion. Cyr has a proven ability to leverage a broad multi-vendor experience and extensive technical knowledge to drive a successful project.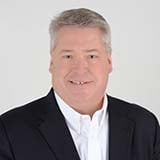 Jeff Moore
Sterling
Senior VP Business
Development and Contracts
As the Sr. Vice President of Business Development and Contracts at Sterling, Jeff Moore orchestrates strategic program and contract capture, efforts vital to the company's growth. Leveraging two decades of industry experience, Moore oversees high-level initiatives for the technology-solutions provider, championing activities around a variety of advanced and emerging solutions (SmartXD, identity management, big data, and data governance).