Written by Hitesh Kumar
In the current data-driven age, the importance of data, and the potential of data-driven processes and systems continue to grow. Every Enterprise wants to take the advantage of data-driven verdicts to stay one step ahead of the competition. We use and understand the importance of data in business. Data even controls the automation processes to decrease the necessary human efforts to make analytical conclusions. Business Intelligence (BI) tools help Enterprise business analyze and visualize the data based on the business requirements.
We are going to take a use case to see how AWS Services can be utilized to store, process, analyze the data, and create BI dashboards according to designated requirements.
Use Case:
A customer wants to easily extend access to interactive dashboards across the teams. With a "pay per use" model and without infrastructure management needed to scale across the company. Customers have secondary data available on a "ready to use" BI platform which can fulfill their requirements without any hassle.
The Solution:
AWS QuickSight is a one-stop solution to the customer's requirement defined in the use case referenced above. Pre-processed data is stored in an AWS S3 Bucket and is then integrates the data using QuickSight S3 connectors. Data is processed using QuickSight Spices. The final step is to create BI Dashboards using QuickSight Visualization, which utilizes the advanced features available.
What is AWS QuickSight:
Amazon QuickSight is a fast, cloud-powered Business Intelligence (BI) service that makes it easy to deliver insights to everyone in your organization.

As a fully managed service, QuickSight lets you easily create and publish interactive dashboards that include Machine Learning (ML) Insights. Dashboards can be accessed from any device, and embedded into applications, portals, and websites.

With Pay-per-Session pricing, QuickSight allows you to create access rules, allowing everyone to access the data they need, while only paying for what you use.
Ref: https://aws.amazon.com/quicksight/
Solution Architecture: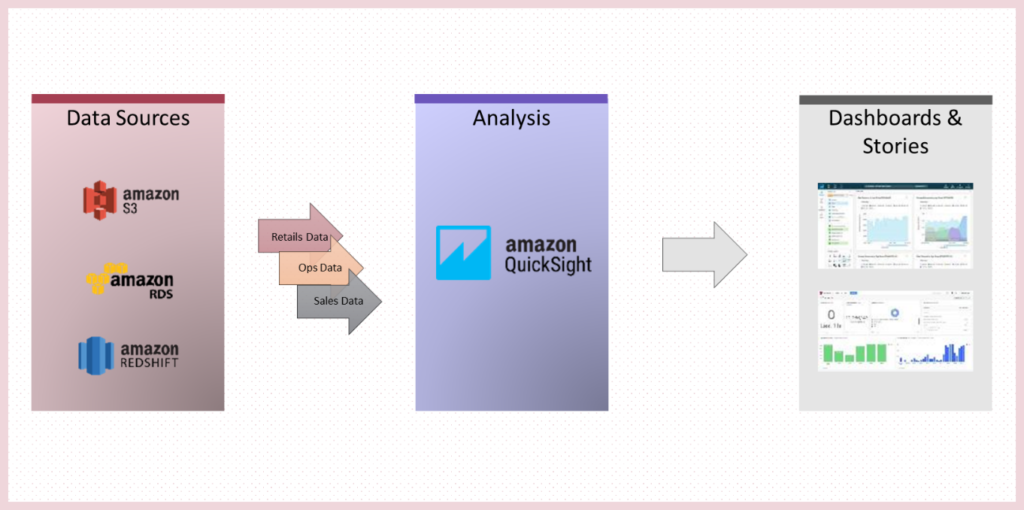 figure 1 
Prerequisites:
Pre-determined Data Sets (i.e. COVID Data, Sales Data, Inventory, Marketing Data, etc.) 

AWS Account

S3 Bucket and working knowledge

Access to QuickSight

Analytics & BI working knowledge
Solution:
Create an S3 Bucket and uploaded the pre-determined data set on the respective bucket. Access AWS QuickSight from Services in AWS Console. Using Fee Tier plans of QuickSight, which provide 1GB of data processing, with an option to increase based on usage requirements. From here, create a new analysis for a new data set. There are many options available to analyze sources of data. 
In the above example, S3 was used to store data. After making a successful connection, data will be ready to import. 
This allows for analysis creation of desired visuals, dashboards, and stories.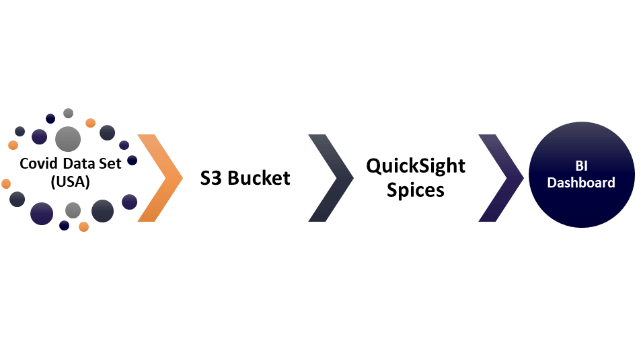 figure 2
Input & Outcomes:
In this example, the input includes COVID-19 data to process and create useful insights within the BI Dashboard, which can help make good decisions. See the illustration noted below in figure 3.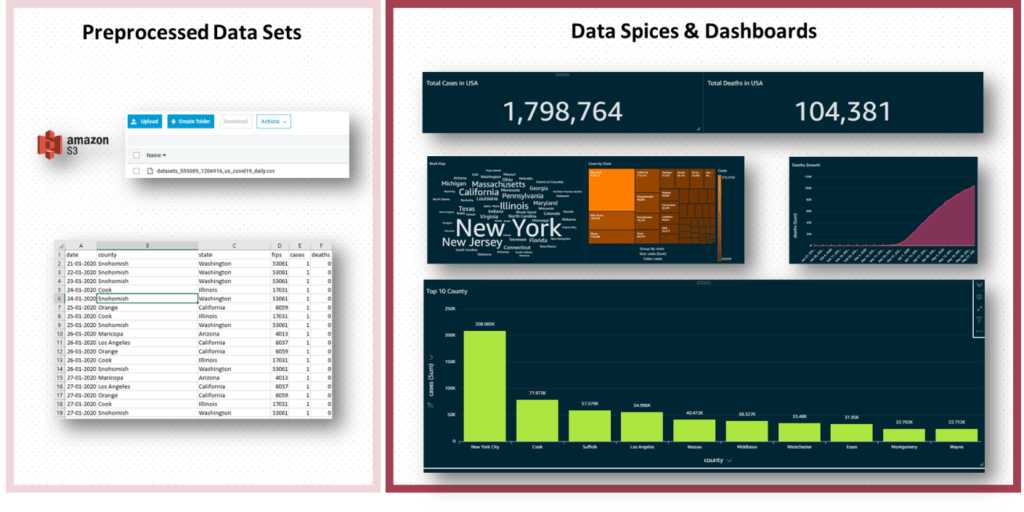 figure 3
AWS QuickSight Benefits:
Pay only for what you use: QuickSight's pay-per-session pricing means you only pay when your users access the dashboards or reports.

Scale to all your users: With its serverless architecture, QuickSight automatically scales from ten to tens of thousands of users without any infrastructure management, capacity planning, or scripting.

Embed analytics in apps: Enhance your applications with embedded QuickSight dashboards, speeding up time to market, and saving on development costs.

Build end-to-end BI solutions: QuickSight easily integrates with your cloud and on-premises data sources including native integration to AWS services such as RedShift, S3, Athena, Aurora, RDS, IAM, and CloudTrail.
Ref: https://aws.amazon.com/quicksight/
Read AWS Series #1: Strategy To Deploy A Highly Available, Mission-Critical Application On Cloud
Sterling offers comprehensive services to help the business users get the true value of Amazon Cloud, Migration, Deployment, and Management. As an AWS Cloud partner, we can help you build cloud-based applications for your business. With the core expertise of years in Cloud Consulting, the cloud team understands the needs of even the most complex IT environments.   Do you need help identifying solutions to fulfill your custom requirements and more significantly reduce areas of risk and the mitigating processes necessary to avoid them? 
Reach out to us on connect@sterling.com for more information or product assistance.