Welcome to the first edition of our monthly newsletter, The Sterling Scoop! 
If you'd like the monthly edition delivered straight to your inbox, you can subscribe for free by clicking the below.
---
Did your school procure new devices with Covid relief funding? Many of the schools Sterling works with have done so, and unfortunately it's shaping up to be a problem. Over and over, schools are experiencing these common concerns: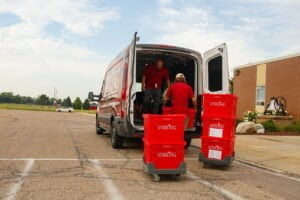 "We're missing units."
"We don't have enough time to do everything that needs to be done."
"We need these devices to last 4-5 years."
These concerns can be prevented with the help of Sterling's thoroughly trained certified technicians who are able to service devices from all major manufacturers. Your institute will be able to put the focus back on your students, guaranteeing that they are getting the most out of their education.
---
According to the Consortium for School Networking's 2021 EdTech Leadership Survey, in 2021 "49% of districts are supporting more than 7,500 devices. This is up from 2020, when only 33% of districts managed that many devices." This increase is making it almost impossible for schools to keep up with management demands and other technology-related issues. And when needed repairs and refreshes aren't occurring, the likelihood of students not having access to working units grows exponentially, not to mention the serviceable life of the equipment itself decreases significantly.
Sterling's Depot Repair Services can help schools avoid these problems and maintain optimal device performance and efficiency.
---
Sterling's Depot Repair Services include:
Customized Depot Repair Offerings
Sterling has the ability to customize any solution to best fit the needs of our customers. We can meet with our clients face-to-face to help determine those requirements.
Secure and ISO-certified Warehouse
Sterling provides a secure facility in which to receive and store products, all while adhering to strict ISO requirements.
Sterling Services Management Portal
With Sterling's real-time Services Ticketing System, you can track your assets as they are being serviced and triaged.
Third-Party Service Agreement
Sterling excels in working with third-party warranty and service agreements, leveraging proven experience and thorough processes to walk you through it step-by-step.
OEM-Certified Repair Technicians
Our team of expert technicians have earned top-level certifications from the industry's best manufacturers.
Customized Reporting from Sterling's Services Management Portal
Reports can be tailored to what you'd like to see, from units received and units delivered to open tickets, parts ordered, and many other useful analytics.
Summer Refresh/Repair Planning
A summer refresh is essential for improving equipment life, increasing productivity and residual values, and lowering the total cost of ownership (TCO) while maximizing the return on investment. Sterling can handle all of your summer refresh needs.
Secure Supply-Chain Management
Utilizing a secure supply chain should be top priority for any organization who's procuring IT hardware, software, solutions, or services. Sterling has made numerous investments into industry certifications to ensure a robust security position, including CMMC, O-TTPS, and ISO.
Download the Depot Repair Services Overview
---
Don't let your outdated devices hinder your students' education. Contact us today to make the most out of your devices.