By Nathan Bennett, Sterling Cloud Architect
My previous blog was part one in a two-part series reviewing VMware announcements ahead of VMworld 2021. In that first part, I focused solely on management. Here in part two, I look at other announcements in VMware's product lines, and I'm focusing on automation, logging, and networking. Both blogs address the VMware vRealize Suite, which covers vRealize Automation (vRA), vRealize Operations (vROPS), vRealize Log Insight (vRLI), and vRealize Network Insight (vRNI). Today we're going to investigate VMWare's announcements around vRA, vRLI, and vRNI, and the different components that will be added, upgraded and configured for better use-cases.
Project Ensemble
The first VMware announcement was about their new "Project Ensemble," which encapsulates everything in the vRealize Suite. With this, VMware is planning on using its cloud to pull data from the customers' environment and then deploy the entire vRealize suite onto the customers' on-premises environment. Ensemble includes all the hybrid clouds that VMware is currently working with, while featuring the enablement of a "quick start," which is very convenient, since getting all of this set up manually can be tedious.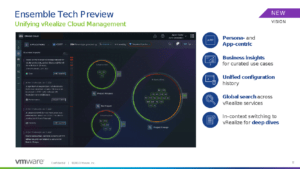 Ensemble also uses machine learning to understand what is happening in the environment and create views that will help customers better understand their environments. The focus is on the application, which will help customers with the business, generating solutions they manage. This is interesting, as the application hasn't been the key part of monitoring for VMware — the infrastructure and hypervisor are the main focus. With this change we will be able to see the application criticality front and center.
Project Ensemble should be available as a tech preview sometime around VMworld. Piggybacking on Ensemble is VMware vRealize Cloud Universal, which sounds familiar, because vRealize Automation Universal was announced last year as a global solution to bring together multiple vRealize Automation clusters into a single space.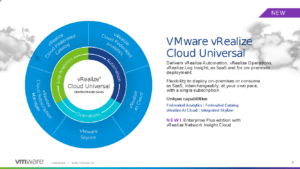 The new addition here is vRealize Network Insight Cloud. The fact that it is new was the only thing we got from the discussion, so we will have to see how this works within the cloud solution and how it integrates with Project Ensemble. My theory is that vRNI Cloud will be used to bring NetFlow data to a centralized cloud endpoint that pushes configurations through a proxy local to your on-premises solution. Both Ensemble and vRealize Cloud Universal are SaaS solutions that work with on-premises appliances. That integration will be something to keep an eye on. It will be exciting to see it in action.
vRealize Automation 8.5.x and 8.6
I love vRealize Automation. It's probably the most powerful tool an IT operator currently has for configuring day-to-day solutions. The ability to custom-build automation and then place that on a front-end solution for self-service where users can consume it, all while satisfying required governance and policies, is a thing of beauty — if it all works in harmony. That's the key, getting it all to work together. When an vRA doesn't work, customers aren't able to get things where they need to because of missing capabilities or functions. But with each release, VMware adds new features that fill the gaps of missing tech and help customers build portfolios of capabilities within their environment.
Here's a quick overview of the capabilities we're looking at for the next release: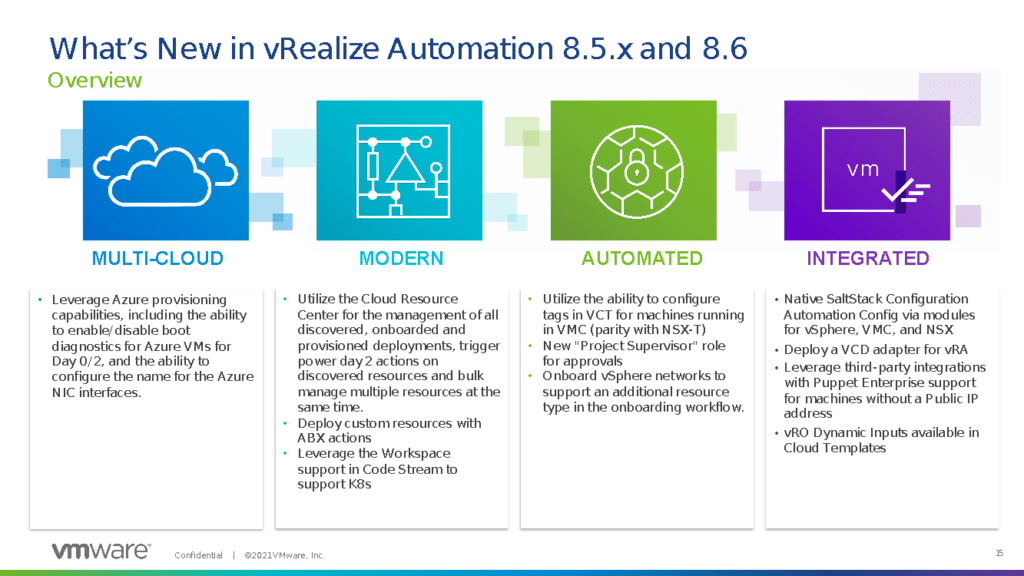 What's new in Automation? Let's start with SaltStack Config which brings native SaltStack modules into vRA. This is akin to already pre-built modules, like Ansible, which will pull your inputs into the backend and push the configuration from vRA into the modules for Ansible. In the VMWare briefing I attended, we couldn't actually see these modules. They may be the current ones, but VMware just purchased SaltStack last year. This has been a hot item in VMware's pocket — set to bring configuration management to their customers. SaltStack will also have new modules for network automation. A critical part of SaltStack Config is the internal SaltStack Reactor. Will SaltStack configure it, or will it manage and keep the settings you put in the blueprint? We will probably find this out when 8.6 releases later, but the extra module configuration will be nice to see. We also see some onboarding to the vSphere networking for vRealize Automation. This brings some parity with NSX-T, and my assumption is that it will build the port group in vCenter and connect via a VLAN, but we were not able to see this demonstrated.
What we did see demonstrated were the dynamic inputs for blueprints, Action Based Extensibility (ABX)-supported custom resources, and K8s for CI configuration in Code Stream. The dynamic-inputs solution allows you to use vRealize Orchestrator (vRO) to pull data for an input, instead having to have that knowledge and inserting it as a user. Normally, this will auto-populate a dropdown or a search field for the user to pick. This function already exists within Custom Forms inside of Service Broker (extension of vRA), but this solution will hardcode it with the blueprint itself. ABX action-backed custom resources allows users to build custom resources, like users, ports, etc. and be able to place them in a blueprint. This also brings the ability to create day-two actions for those custom resources. This move adds more functionality for those looking for function as a service solution, outside of vRO — though it doesn't really add new capabilities. (Instead, it extends the customization of those functions.) Finally, on K8s for CI integration with Code Stream: currently this is only available with a Docker host, and according to VMware, "Many customers do not want to use Docker." Instead of building a Docker host, you would have to build an external K8s cluster to build your CI pod for running custom scripts and configurations. Code Stream custom integration is pretty neat, as it ties Tanzu into the solution nicely.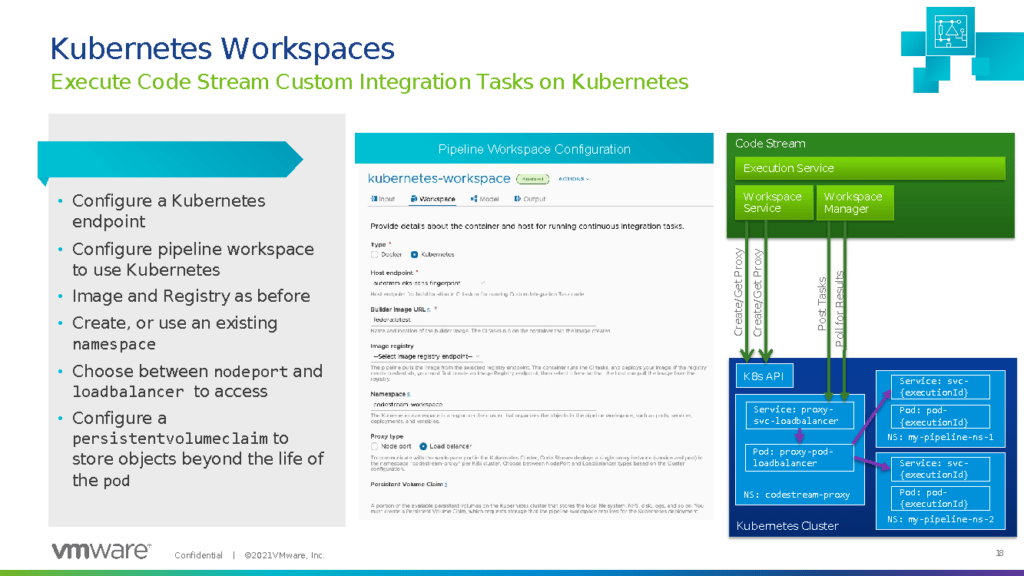 All in all, a lot of great solutions are on the horizon for vRA. We'll have to wait till VMworld kicks off to see all the details. I personally can't wait to get my hands on 8.6 and see what I can do with it.
vRealize Log Insight
vRealize Log insight at its core is a logging aggregator that brings multiple logs into a central location and grants the user the power to parse through the logs to find troubleshooting issues and address them. However, it's not always the easiest way to work. Some of the datapoints will not be easy to consume visually. One such integration is between NSX-T and Log insight. Now NSX-T has a function called "Identity Firewall" that will block users from accessing resources they don't need to access. These logs in vRLI would be difficult to find, as they would give you information about an IP address and not the user.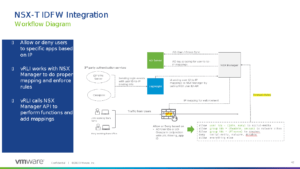 A day of deep diving into logs isn't so enjoyable. Making it easier for administrators to see what they need to see, without extra noise to parse through, is essential to the success of a solution like this.
vRLI adds hybrid log management with cloud to the logging solution. This means that you can connect your logging solution into things like S3 for storage or archival storage, consume multiple log sources within the cloud, and connect vRLI with AI/ML workloads to find suggestions on what to do to address environmental issues." This all adds capabilities for on-premises to connect externally.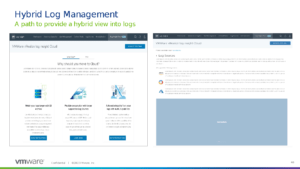 Conclusion
As you can see/read, VMware's cloud briefing was deep and extensive. To say that customers have a lot to look forward to is an understatement.
If 2019 was 'the year Kubernetes came to VMware,' then 2021 may be 'the year VMware went native with cloud.' That means AWS, GCP, Azure, etc. are all going to be treated better within the vRealize Suite, so customers can use them to the greatest benefit of their environments.
There's a lot coming from VMware. If you are looking to catch up on things, don't miss the sessions at VMworld!